Taking advantage of an opportunity can require rethinking what's possible–despite limitations. For Alcon Tool, requests for advanced products from new and existing customers throughout 2021 presented some exciting possibilities, but the company needed to expand production quickly in the midst of global supply-chain disruptions and labor shortages. The solution: move complex products, which historically could only be made manually by experienced operators, to CNC lathes.

Overcoming inherent machine constraints initially seemed far-fetched. However, eagerness, imagination, and know-how drove the experienced team of Mike Barrow, project manager and programmer, Brian Marsh, process engineer and machine programmer, John Schmidt, resource manager and hard lathe department leader, and Ken White, soft lathe technician, to push the limits of every lathe they identified for repurposing.
"A good artist can do a lot with a pencil, and it's similar for us," says Mike. "We have these older machines, and, even though they weren't the machines we would have picked, they were all machines in working order. We constantly asked ourselves, 'What's the best we can do with this?' We treated everything as inspiration for creativity."
Success With CNC Retrofits Builds Confidence, Determination
The team started small and targeted the workholdings on two underutilized CNC lathes, including an aging toolroom lathe. Once completed, both could hold and finish turn heat-treated blades, which had not been possible on the machines before. Over the past year, new projects have led to tweaks and modifications of other lathes, and each success has built their confidence in what they can accomplish.
"Right now, you have to prove we can't do it," says Ken. "That's how we go into any new job or retrofit, like we're going to do it, even if we've never done it before. If our initial idea fails, we'll just figure out another way."
John says repurposing what you have until you get down to essentials you must purchase aids Alcon in strategic decision making, enabling the company to strike a good balance between retrofitting and buying new, must-have equipment. The directional goal is to continue moving labor-intensive and maintenance-heavy jobs to CNC machines for turning.
He adds, "Doing this work with a talented team, being able to talk openly about it, and having permission and support from Alcon's leadership are all key reasons for our remarkable success."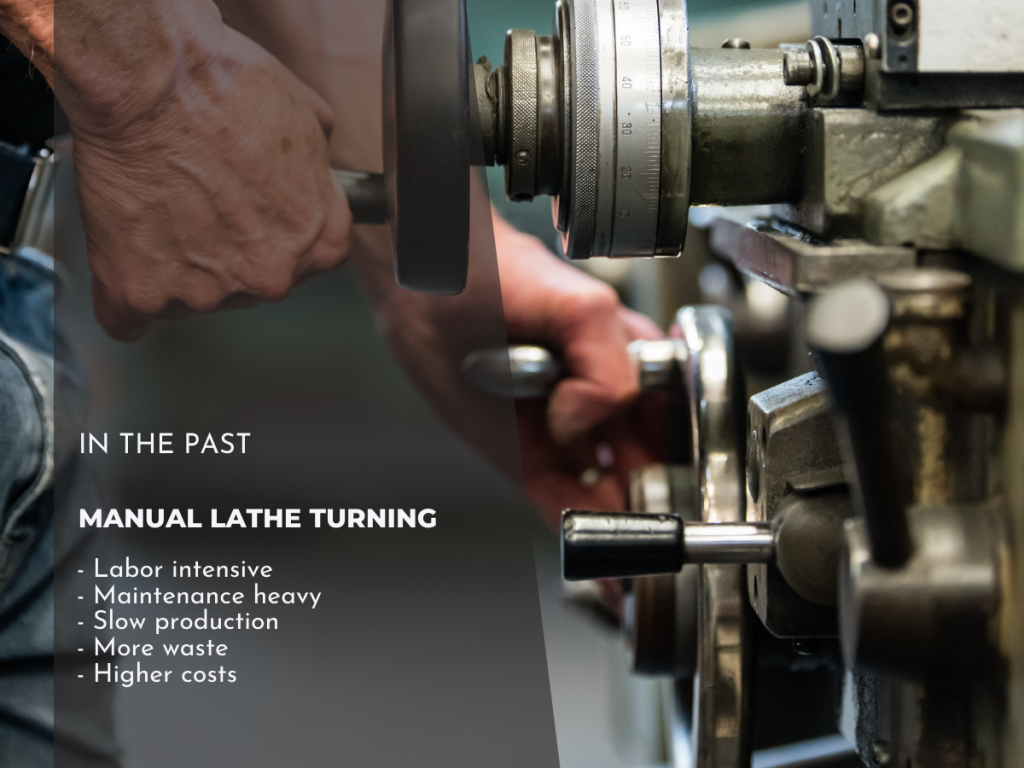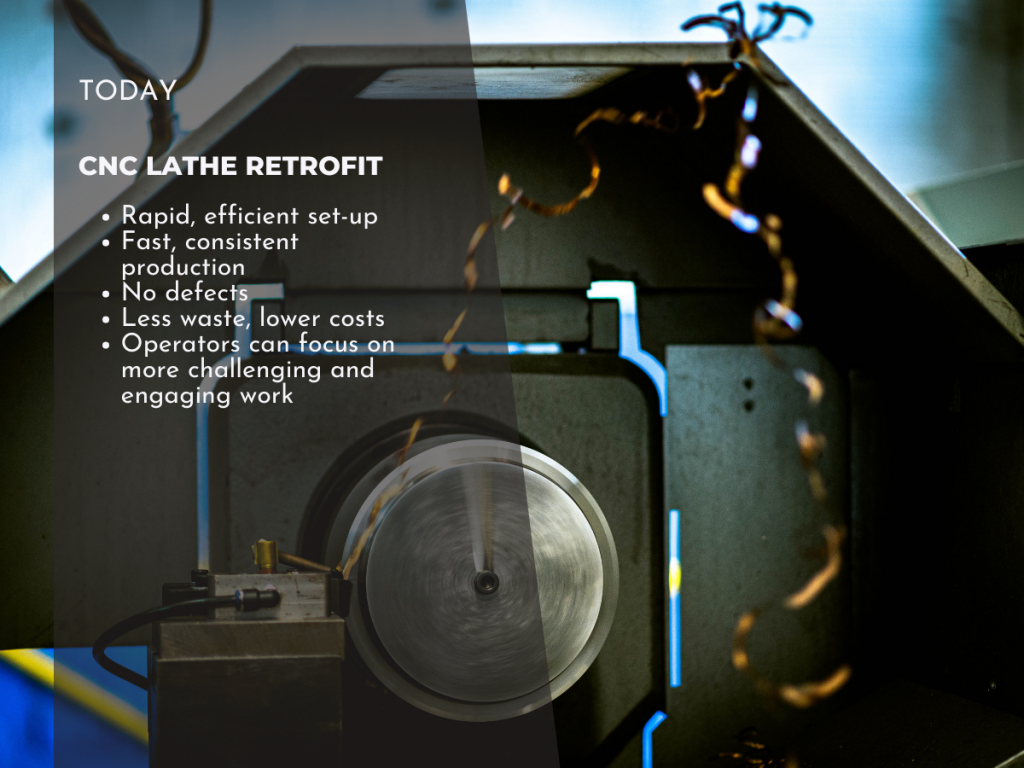 CNC Machining Capabilities Benefit Customers and Alcon Employees
Additional CNC-machining capabilities and capacity continue to be a win-win for Alcon and its customers. Manufacturing processes using CNC lathes:
Are rapid and efficient in set-up as well as production
Produce highly consistent parts with no defects
Reduce waste and costs
Customers reap the benefits. Alcon provides not only innovative or reverse-engineered part designs, but also exceptional piece precision at volume, enabling customers to meet tighter tolerances with their own products and processes. Plus, Alcon passes along the value of efficiency and cost reduction to customers through competitive pricing and prompt deliveries within the confines of the current procurement environment.
Internally, the rewards of retrofitting are significant–from streamlining production of previously labor- and time-intensive jobs to making better use of employees' skills and talents.
"Yes, we've increased capacity and eliminated steps and antiquated workstations, and that's huge," says Brian. "But just as critical are the strides we've made in elevating the work of the general operators and giving them an opportunity to be more engaged in work that challenges them and brings out their best. It's exciting to see manufacturing evolve in this way."
Learn More
As a maker of industrial blades and a leader among manufacturers of custom cutting tools, Alcon works with a range of industries, including commercial food processing, paper / packaging / converting, construction, and tire & rubber. Contact Alcon for a quote or to learn more about our expanded CNC-machining capabilities.